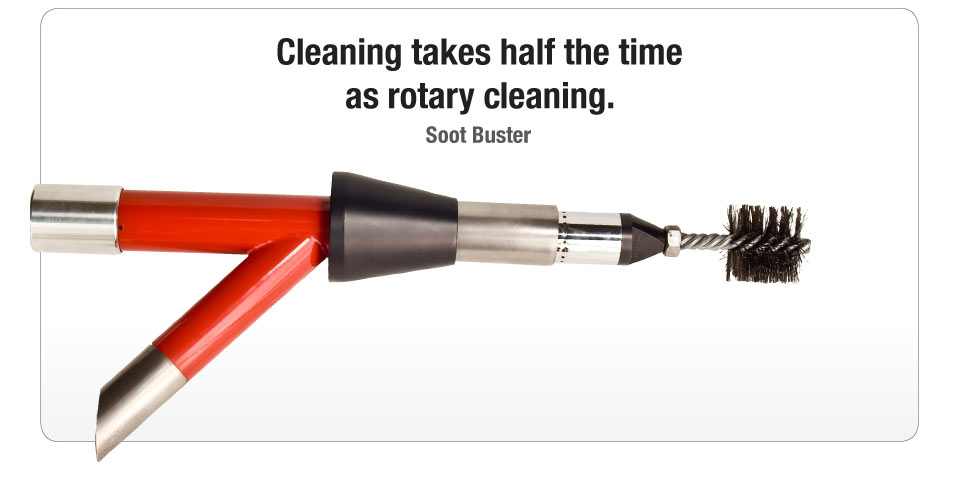 Soot Buster M5784-00, for cleaning firetube boilers, is a pneumatically actuated cleaning tool that propels itself inside of tubes at 1.5 feet per second and scrubs the tube ID with each pulse.
Simply insert it into the tube and the unique oscillating action of the attached brush will drive the cleaner to the end of the tube. When it senses the end of the tube, it reverses the direction of thrust and returns to the operator.
With a capability of cleaning 60 tubes per hour, the time required to clean a firetube boiler or oil field drill pipe is greatly reduced.
Features & Benefits:
The operator stays completely dry.

Lightweight and compact design that reduces operator fatigue.

Rugged construction with no plastic gears or parts for long lasting cleaning action.

Significant job savings from fast set-up and operation.

Higher operator satisfaction provides increased productivity.

Low initial and ongoing investment.

Set-up is fast: No cables to arrange. Only set-up issue is the brush size.

Cleaning takes half the time as rotary cleaning:

Auto-feed is standard feature. Reverses at tube end without need to "measure-off" the tube.

No down time with broken cables or shafts.
Air Requirements:
25 CFM (0.71 M3/min.) @ 100 PSI (6.9 bar).

Minimum 60 PSI (4.1 bar) Maximum 150 PSI (10.3 bar).