Die-Hard™ Cableless Tube Cleaner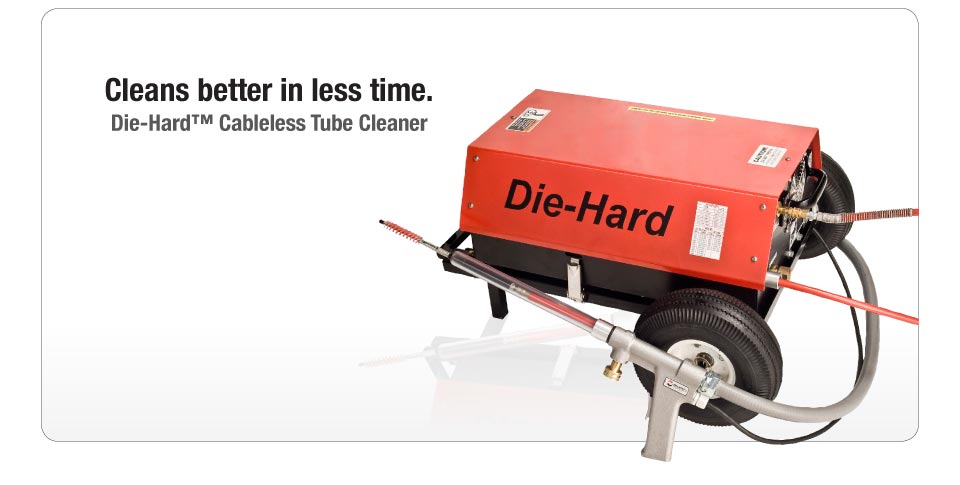 The Die-Hard™ is the first cableless tube cleaner that successfully cleans light to medium deposits found in chiller, condenser, and heat exchanger tubes.
Water pressure is utilized instead of a spinning cable to provide the power for the brushing action. A patented pulse-jet actuator with brush provides a quad cleaning action to flush tube debris such as scale, mud, and algae out the back end of the tube. The Die-Hard™'s quad cleaning action enables you to be more productive while getting tubes cleaner!
Features & Benefits:
Spend your time cleaning the vessel, not hassling with the cleaner!

No cable! That's right – never spend time or money on replacement flex shafts or cables again.

Rugged engineering and construction for higher uptime and lower repair costs.

3 feet / second auto feed for high productivity.

Ergonomic design for lower labor costs and higher operator satisfaction.

Quad cleaning action for better cleaning & productivity.
Specifications:
110/1/60 electric, 14 amps

0.5 GPM water consumption 10 pulses / second ~ 800 PSI.

Hydro powered brush actuator