537100C Jumbo Jiffy Gun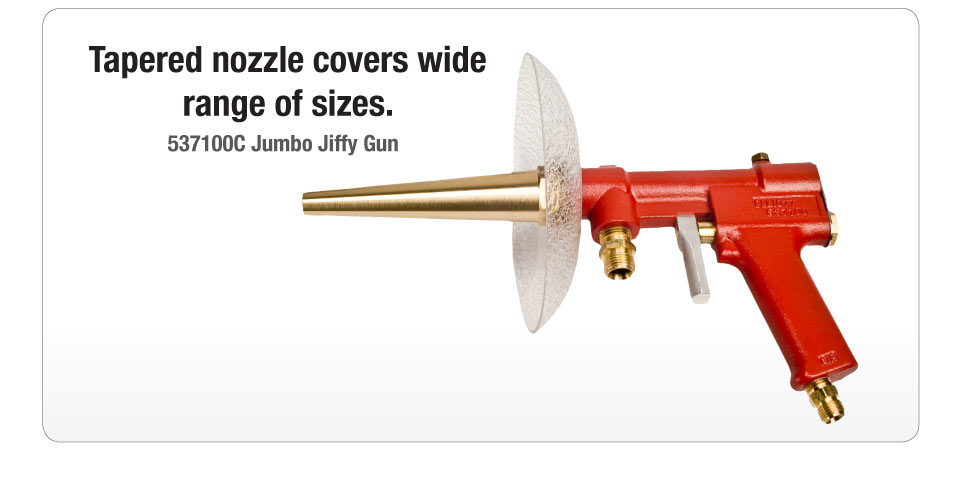 The Jumbo Jiffy Gun is powered by an air and water combination to propel Elliott's wide range of reusable shoot through devices. Soft deposits such as mud and algae are removed from the tube in seconds!
Jumbo Jiffy Gun Tube Cleaning Systems are the preferred tools for cleaning condenser tubes in power utility plants, pulp, paper, steel mills and petrochemical plants.
Features & Benefits:
Tapered nozzle covers wide range of sizes eliminating need for multiple nozzle sizes.

Utilizes reusable shoot through devices for lower cost.

Cleans without damaging tubes.

On board pet cock to relieve pressure in clogged tubes.
Specifications
45-90 PSI (3.1-6.2 bar) Air Pressure

50 PSI (3.4 bar) Water Pressure maximum

Weight: 3.5 lbs./1.6 Kg
The Jumbo Jiffy Gun accommodates tube OD sizes 3/4" to 1-1/4" (19.0 to 31.8mm). For smaller diameter tubes use 5370 Jiffy Gun.