5224XL Heat Exchanger Cleaner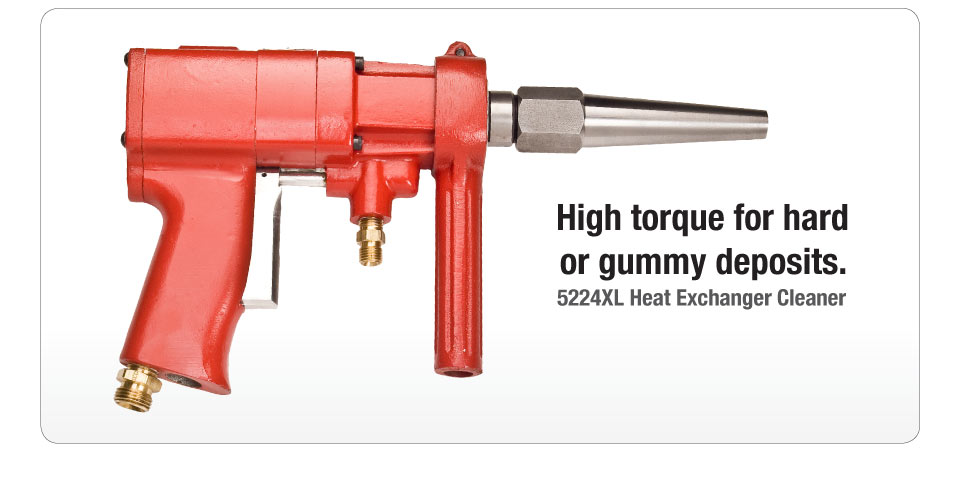 The Heat Exchanger Tube Cleaners utilize a rigid shaft to provide high torque cleaning to remove hard deposits often found in heat exchanger tubes. These cleaners are ideal for use in sugar mills, paper mills, chemical plants, and oil refineries.
The trigger-operated cleaner features an air-powered motor than remains external to the tube, providing a powerful rotary motion to the shaft and cleaning tool. The 5224XL utilizes water flush operation to wash away all those loose deposits.
Air purge models are also available for any cleaning application where water flush can not be used. Contact Customer Service for details.
Features & Benefits:
High torque for hard or gummy deposits.

Standard model features water flush operation, convenient for flushing away loose deposits.

Light weight and powerful.

Safer & much less expensive than water blasting.
Specifications:
1,500 RPM

3/4" (19.0mm) Air Hose Supply

45 CFM (1.3 M3/min.) @ 90 PSI (6.2 bar)

50 PSI (3.4 bar) Water Pressure

Motor Weight: 6 lbs./2.72 Kg.